M&A Advisory
The company RJ Finance was founded by Roman JERAS in 2008. Since then more than 70 M&A references were achieved, most notable ones were Juteks d.d., Žalec, transaction of over EUR 25.000.000, with several services executed for its Belgium client, including services related to Stock Exchange Companies and Slovenian Takeover Act. Similar range of transactions were made in the project TKK Sprenica d.d., where was included also interim CEO services. Most of other transactions are Slovenian private SME's in the range 2.000.000 EUR to 10.000.000 EUR, mostly from industrial and industrial services sectors.
Leading M&A advisory in the Slovenian SME segment
As in June 2022 we have more than 20 sell mandates in the SME segment - absolute winner in that category in Slovenia! We have also acquired 4 buy mandates, plus several non-exclusive mandates of interested investors.
We also act as an one-stop-shop for M&A. That includes organisation of Valuation, Legal, Tax and Audit services.
Services:
Classical Sell mandate - 100% ownership change
Partnership (growth) mandates - 50/50 or 75/25 ownership
Search for Financial partner of Private Equity partner
All procedures follow the 'RJ Finance Capital Increase' or RJCI.
One-stop-shop mandates (including organisation of legal, tax and audit services)
Long list of contacts and partnerships in Europe
and several more customized services related to M&A!
RJ Sell and buy mandates, June 2022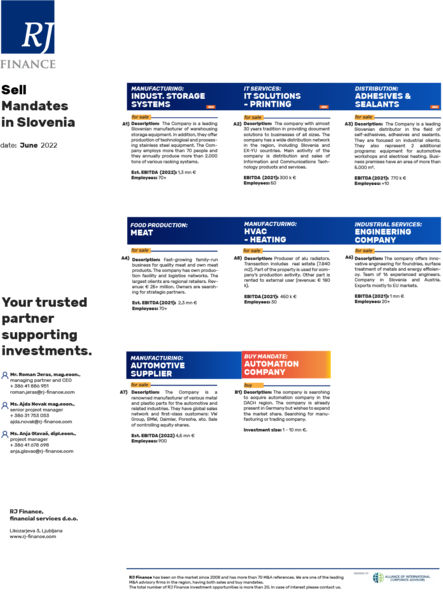 RJ finance is a new member of AICA network
We are pleased to announce that RJ finance was welcomed in AICA network on the 11th AICA Global Meeting in Vancouver, Canada. RJ finance Managing Partner Roman Jeras participated in the global M&A conference.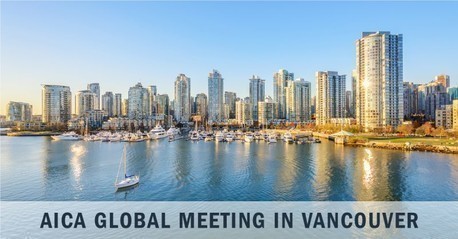 The 11th AICA global meeting was held on 12 – 14 May 2022 in Vancouver – attended by more than 40 members from 39 countries. The Canadian AICA member Sequeira Partners hosted this first in-person event since the global meeting in Singapore in 2019.
What is AICA?

Mission
AICA was established to provide investors and middle market companies with access to proven investment banking expertise and resources on an international basis.
Selective Membership
The membership of AICA has been carefully selected on the basis of reputation, relationships, proven track record and knowledge of local markets.
Middle-Market Focus
AICA member firms are committed to middle market companies with enterprise value between US $5MM-$200MM.
Global Reach
AICA is active across the Americas, Europe and Asia, in developed economies as well as high growth markets such as China, India, Brazil and eastern Europe.

Benefits for clients
Clients of AICA member firms benefit from the personalized senior partner attention of the local firm that has been engaged, amplified by the expertise, relationships and resources of our global investment banker and advisor network.
AICA's member firms provide a full range of advisory services to assist clients with cross-border business sales and divestitures, mergers, acquisitions, capital raises, joint ventures, and other strategic transactions.
The next AICA meeting will be the AICA EMEA regional Meeting in October 2022, to be held in Barcelona, Spain.